Philippines coup senator Antonio Trillanes freed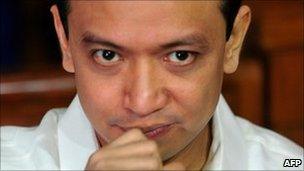 A leader of a coup attempt in the Philippines in 2003, Antonio Trillanes, has been freed from jail under a presidential amnesty.
Mr Trillanes was elected to the Senate from behind bars and says he will be an active supporter of President Benigno Aquino.
The former Philippine navy lieutenant was accused of leading the coup attempt on 27 July 2003.
No-one was hurt in the coup attempt against then President Gloria Arroyo.
Mr Trillanes is among about 300 troops who demanded that Mrs Arroyo step down for alleged corruption.
Nine officers pleaded guilty to coup charges, apologised and were subsequently pardoned by Mrs Arroyo; Mr Trillanes denied any wrongdoing in a trial yet to reach any conclusion.
Another of the rebel soldiers, Nicanor Faeldon, surrendered in July after three years on the run, saying he recognised the legitimacy of the new Philippine government.
During his trial in 2007, Mr Trillanes led a dramatic walkout from the court room to the Manila Peninsula Hotel; loyal troops drove an armoured personnel carrier into the five-star hotel's lobby to end their occupation.
This was a prelude to Mr Trillanes winning a seat in the Senate later that year; he will be able to take that seat for the first time in January.
"Since we are allied with this administration, we are going to help them in their legislative agenda. So we're not going to be outside critics here," he said on his release from jail.
"I believe our heart is for the country. We will be part of rebuilding this country. So our countrymen can count on us, they will have a voice in the Senate who will fight and protect for their rights," he said.
President Aquino announced an amnesty for the coup plotters in October.
Some analysts have suggested his amnesty carries risks of a more restive military.
Coup attempts are common in the Philippines, since the martial law of former President Ferdinand Marcos which was brought to an end in 1986 by a popular movement led by the current president's mother, Corazon Aquino.