Australian court jails fake PoW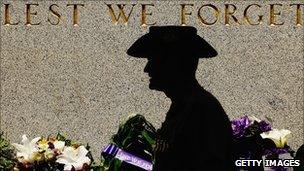 An 84-year-old Australian pensioner has been jailed for pretending to have been a prisoner of war and for falsely claiming a war service pension.
Arthur "Rex" Crane claimed to have been tortured by the Japanese in a prisoner of war camp during WWII, when he was in fact a schoolboy in South Australia.
The Brisbane man falsely claimed almost A$700,000 ($697,000, £450,000) in war pensions.
He was jailed for six months and ordered to pay back the pension money.
Crane had claimed he was captured and tortured by the Japanese, when the reality was he had never served in the military.
His deception was uncovered last year when he was delivering a speech on his wartime experiences before an audience in Victoria.
Unfortunately for him, a military historian was present and realised that his story simply could not have been true.
Crane had not only claimed a war pension but had even become the president of the Ex-Prisoners Of War Association.
After pleading guilty to fraud, Crane said he was not motivated by financial gain, but by a desire to "have a place in society".
He apologised to prisoners of war and to the wider Australian community.
The military historian who exposed him said she was astounded that he managed to fool the Australian authorities for so long.