North Korea: US rules out resuming nuclear talks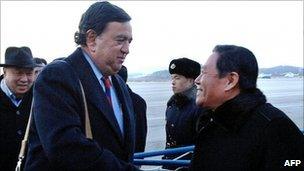 The US has ruled out resuming talks with North Korea unless it shows it is serious about meeting its obligations on halting its nuclear activities.
The White House said Pyongyang must stop its "belligerent actions".
The comments follow an unofficial visit to the North by US politician Bill Richardson. He said Pyongyang would re-open its facilities to UN inspectors.
But North Korea has not yet confirmed any offer and there has been no comment from the UN's nuclear watchdog.
Mr Richardson, the governor of US state of New Mexico, said that the North's gesture to allow international inspectors back in to its main nuclear complex, and its restraint in not retaliating for South Korean live-fire drills, could provide a basis for new six-party talks.
But White House spokesman Robert Gibbs said the North was not "even remotely ready" for such talks.
"Right now the action must come not from their words, but from their deeds," he said.
"The six-party talks will be restarted again when the North Koreans display a willingness to change their behaviour," Mr Gibbs said.
"We're not going to get a table in a room and have six-party talks just for the feel-good notion of having six-party talks."
He said that the US would "continue to work hand in hand" with South Korea.
The White House statement comes at a time of very high tensions on the Korean peninsula, in the wake of the North's deadly shelling of a South Korean island last month in which four people died.
Mr Gibbs said there were no plans for Mr Richardson to talk with the president following his unofficial trip to North Korea, which was made at Pyongyang's invitation.
China has urged South Korea, the US, Russia and Japan to restart six-party talks with North Korea.
However, South Korea and its allies have refused to do so until Pyongyang gives a firm commitment on nuclear disarmament.
North Korea walked out of the six-party talks in April 2009 and expelled UN nuclear inspectors from the country.
Inspectors from the International Atomic Energy Agency (IAEA) had been monitoring the Yongbyon nuclear plant - the source of North Korea's plutonium.
In November North Korea revealed to US atomic scientist Siegfried Hecker that it had a modern uranium enrichment plant, also at the Yongbyon site.