UN concerned for China food safety activists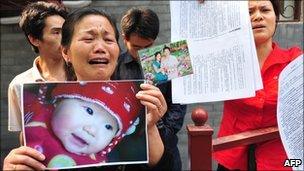 The UN has expressed concern about the prosecution in China of whistle-blowers highlighting food safety scandals.
The UN rapporteur on food rights, Olivier de Schutter, said the state's actions had "a chilling effect" on others worried about violations.
He said the Chinese authorities seemed to underestimate the contribution that free expression and association could make to the right to adequate food.
Mr de Schutter called for more transparency about food safety.
During his eight-day visit to China Mr de Schutter met food experts, civil society groups and government ministers.
He said he raised the case of Zhao Lianhai, whose son was one of about 300,000 children made ill in 2008 by poisoned baby milk.
Mr Zhao organised a parents' support group and campaigned for compensation. He was recently jailed for two-and-a-half years for "inciting social disorder".
Mr de Schutter said: "I think that freedoms of expression, freedoms of association, such as those that Mr Zhao was exercising, are key to protecting social and economic rights such as the right to food."
He said he would "continue dialogue" with the foreign ministry on Mr Zhao's case.
The 2008 scandal - in which milk product were contaminated with the industrial chemical melamine - caused widespread anger.
It led to a worldwide recall of Chinese dairy products and was a major embarrassment for the country's leaders, who vowed to tackle the problem.
Mr de Schutter's report also warned that land grabs by developers in collusion with officials threatens the ability of the country to maintain current levels of agricultural production.
Farming land is also being lost due to urbanisation and natural disasters.
China's made "remarkable" progress towards achieving food self-sufficiency, the report says.
But it warns the shrinking of arable land represents a major threat to its ability to maintain that self-sufficiency.
Related Internet Links
The BBC is not responsible for the content of external sites.