Indonesia anger over lasers in Malaysia football match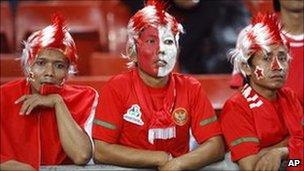 The Indonesian president has said an official protest will be lodged with the Asean Football Federation about the alleged use of laser beams in an international against Malaysia.
Susilo Bambang Yudhoyono was speaking after fans and players complained about the Suzuki Cup final match.
Indonesia lost 3-0 in the first leg in Kuala Lumpur on Sunday.
Football rivalry represents one of the many spats between Indonesia and Malaysia.
Trouble began in Sunday's match in the second half when the Indonesian team claimed that Malaysian supporters had shone lasers directly into players' faces, including the captain, at several corner kicks, and the goalkeeper.
The game was halted for eight minutes as Indonesia's players left the pitch.
When play resumed, Malaysia scored three goals in just under 12 minutes.
"I instructed Andi to file an official complaint," Mr Yudhoyono told the official Antara news agency, in a reference to Youth and Sports Minister Andi Mallarangeng.
The second leg will be played in Jakarta on Wednesday.
The Jakarta Post said that lasers reportedly also troubled the Vietnamese national team during a semi-final match against Malaysia in Kuala Lumpur.
Indonesian supporter Ahmad Susprianto, who was at the game in Kuala Lumpur, told news portal kompas.com he saw five people shining lasers at the players.
Malaysian Prime Minister Najib Razak said he was happy with the result.
"I am so truly delighted with the victory. The team gave a good performance tonight and the whole nation is proud of our team. They need another good performance in Indonesia," he said.
Indonesia had trounced Malaysia 5-1 in an earlier phase of the tournament.