Vietnam offers loans to ailing shipbuilder Vinashin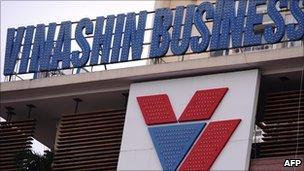 The Vietnamese government says it will offer interest-free loans to shipbuilder Vinashin to pay salaries, after the company failed to make the first repayment of a big foreign loan.
Vinashin is one of Vietnam's largest state-owned companies.
But over-expansion took it to the brink of bankruptcy and it is now being restructured.
Vietnam's sovereign credit rating was recently downgraded, partly because of Vinashin's troubles.
Vinashin - also known as Vietnam Shipbuilding Industry Group - ran up debts of about $4.5bn (£2.8bn) after a period of rapid expansion.
On 20 December it missed the first repayment of a $600m loan arranged by Credit Suisse in 2007. It is reportedly seeking a one-year delay in repayments.
The Vietnamese government has said it will not bail out the shipbuilder, which employs tens of thousands of workers.
But the interest-free loans - from the state-owned Development Bank of Vietnam - will pay salaries and workers' insurance, the government said in a statement late on Monday.
Related Internet Links
The BBC is not responsible for the content of external sites.