Indonesia terror suspect Abdullah Sunata goes on trial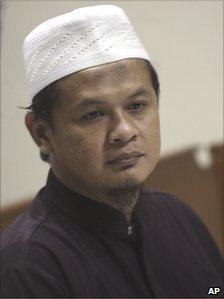 One of Indonesia's top terrorism suspects has gone on trial in Jakarta, charged with helping to set up a militant network that was said to be planning attacks against foreigners.
Abdullah Sunata was arrested in June during a raid in Central Java province.
Prosecutors say he helped set up a training camp where militants allegedly plotted to attack Westerners at hotels and embassies in Jakarta.
Speaking before the trial, he denied the group had agreed on such plans.
More than 80 of the group's alleged members have been captured or killed since February, when police announced they had discovered the training camp in the western province of Aceh.
Known as al-Qaeda in Aceh, the group is said to have had links to militants with ties to the Middle East and the Philippines.
Prosecutors say Mr Sunata should face the death penalty.
He was released from prison last year after serving time for other terrorism-related offences.