North Korea 'has boosted special forces'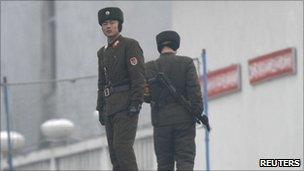 North Korea has increased its investment in tanks and special forces, a South Korean defence review has reported.
The paper, written every two years, notes the North has trained at least 20,000 more special forces.
It said the North remained capable of a "massive surprise bombardment" of the South's capital, Seoul.
Tensions on the Korean peninsula this year have resulted in cross-border artillery fire and calls for new talks.
The total size of the North's military remained unchanged at about 1.19 million, the paper said, but the number of special forces within that had risen to 200,000.
These are soldiers trained to carry out assassinations, and the infiltration and disruption of key facilities, the paper said.
It said the North had deployed its new battle tank, "Pokpung-ho" (or "Storm Tiger"), which reportedly made its debut in 2002.
This design is believed to be based on the Soviet Union's T-72 tanks, but most of the newly added tanks used some of the older equipment, the defence report said.
North Korea is "presumed to have secured about 40 kilograms" of weapons-grade plutonium by reprocessing spent nuclear fuel rods four times by 2009, the paper said.
Although North Korea has previously been designated the "main enemy" of the South, this year's report calls the North simply the "enemy", apparently for diplomatic reasons.
"Not using the expression 'main enemy' does not mean that we softened our stance," Deputy Defence Minister Chang Kwang-il told reporters.
It added that the North intended to rely on its nuclear programme, special forces, cyber-warfare, submarines and long-range artillery in any conflict with the South.
However, it concluded an outright attack from the North was unlikely, given the presence of about 28,000 United States forces in South Korea.
The defence report was issued a day after the South Korean President Lee Myung-Bak said there was no choice but to try to dismantle North Korea's nuclear programme through diplomacy.
On 23 November, North Korea shelled the South Korean island of Yeonpyeong, killing four South Koreans, including civilians.
Mr Lee also told his nation earlier this week that it must unite in the face of military aggression from the North.