Thai court jails 'yellow shirt' group over TV invasion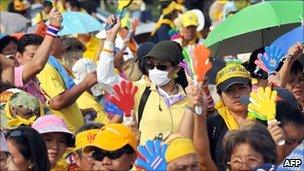 A Thai court has jailed 79 members of the "yellow shirt" movement over the invasion of a television station in 2008.
They are the first convictions of members of the group, which also paralysed Bangkok's airports for several days.
The incidents were aimed at forcing out a government led by an ally of ousted leader Thaksin Shinawatra.
Mr Thaksin was removed by the military in a 2006 coup.
The sentences relate to an incident on 28 August 2008, amid a stand-off between the government of Prime Minister Samak Sundaravej and the "yellow shirts" - members of the pro-establishment People's Alliance for Democracy.
A group of armed PAD supporters stormed the main studios of the government-run National Broadcasting Services of Thailand, threatened employees and ordered them not to broadcast news.
The Bangkok Criminal Court sentenced defendants to between 12 and 30 months in prison on charges including assault and property damage. Six minors were also put on probation.
The "yellow shirts" went on to blockade Government House and occupy Bangkok's two airports, preventing travel in and out of the capital.
The airport siege ended when a court dissolved the pro-Thaksin ruling party, leaving the yellow shirts' preferred candidate, Democrat Party leader Abhisit Vejjajiva, in a position to form a government.
Just over a year later, rival "red shirt" protests erupted in Bangkok.
Protesters demanding Mr Abhisit's government step down occupied the commercial heart of Bangkok for 10 weeks until troops moved in.
Ninety people were killed over the course of the protests, most of them civilians, and several "red shirt" leaders remain in detention.
The sentences could help ease tensions in Thailand, where a state of emergency was only recently ended.
The "red shirts" had complained that the law was not being applied equally and questioned why no action had been taken against "yellow shirt" leaders involved in the 2008 blockades.
No "yellow shirt" leaders were jailed on Thursday, however; the convicted men had all served as "yellow shirt" guards.