Return of bird flu to South Korea sparks cull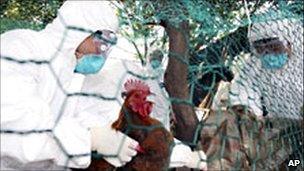 South Korea has confirmed its first outbreak of avian flu since 2008 and is culling many thousands of birds.
The agricultural ministry confirmed that two farms in the centre and south-west of the country had been contaminated with the H5N1 virus.
So far, more than 100,000 chickens have been culled and more than 10,000 ducks.
South Korea was the second country in Asia to register bird flu, after Thailand, in 2003, suffering three major outbreaks until 2008.
Earlier this month, officials in Seoul confirmed that three cases of bird flu had been found in wild migratory birds that had arrived for winter.
The authorities have warned poultry farmers to take better precautions against wild birds infecting their flocks, including the erection of nets.
The latest outbreak was first detected on Wednesday when birds started dying.
One of the poultry farms affected is in the central city of Cheonan and the other is in the south-western city of Iksan, 90km (56 miles) and 230km (143 miles) south of Seoul, respectively.
Both are now under quarantine, meaning that the movements of people and vehicles are restricted.
Exports of chicken, duck and related products will be affected.
"All the 10,700 ducks at the farm in Cheonan and 17,000 breeding chickens at the farm in Iksan have already been culled and buried, together with 92,000 chickens raised at nearby farms," the ministry said in a press statement.
South Korea has embarked on major culls before: more than eight million birds in 2008, 2.8m in the 2006-07 outbreak and 5.28m in 2003-2004.
South Korea has not registered any human fatalities from bird flu. Four people were infected in 2003.
Separately, South Korea recently confirmed an outbreak of 66 cases of foot and mouth disease, and has registered swine flu infections that have caused the death of one man.
More than half a million cattle, pigs and other cloven-hoofed animals have been culled in the past month, with vaccinations carried out on 313,000 animals.
A month-long quarantine effort has been struggling to keep pace with the contagious disease, since a confirmed infection on 29 November.
One of the farms affected, in Gyeonggi province just west of Seoul is the single largest producer of cattle in the country.
Agriculture ministry estimates suggest that losses from the foot-and-mouth outbreak could exceed $463m (£300m).
Related Internet Links
The BBC is not responsible for the content of external sites.