Philippine weather toll climbs to five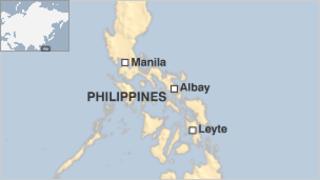 Two children in the eastern Philippines have been killed in a landslide caused by heavy rain, raising the toll from the bad weather to five.
The one-year-old and his five-year-old sister were swept away near St Bernard township on Leyte Island.
Their deaths follow those of three people fleeing their homes in Albay province last week.
Forecasters said more rain was expected in the country in the coming days.
A civil defence officer in St Bernard, Benito Ramos, said a seven-year old child survived the landslide which killed the two younger children.
At least 1,000 people have fled their homes in Leyte and nearby Samar to seek shelter in evacuation centres, he said.
Further north in Bicol region, the National Disaster Risk Reduction and Management Council said the toll had risen to three when a woman reported missing was found dead.
An 80-year old woman and her 50-year old son died east of Legazpi City in Albay province last Wednesday.
They had been safe in an evacuation centre but met their deaths when returning from a trip back to their homes to retrieve possessions.
The heavy rains forced more than 60,000 people to leave their homes in Bicol last week, almost all of whom had gone home by the new year, officials said.
Further south, in the vast Mindanao region, heavy rains have caused floods and the evacuation of at least 900 people, but there were no reports of deaths.