Roads 'like lagoons' in flood-hit Rockhampton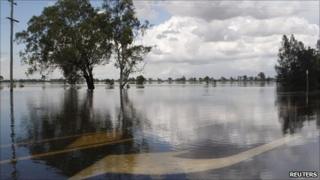 Rockhampton is starting to resemble an island, with the swollen Fitzroy River looking more like an inland sea.
What we are seeing here is just a small snapshot of the floodwaters that have affected more than 20 towns and cities, and produced the most widespread flooding in Queensland's history.
But the scale is still vast - a panorama of brown, muddy water, dotted with trees and half-submerged traffic signs.
In Rockhampton itself, roads in some suburbs like Depot Hill look like lagoons, and just about the only way people are moving about is in small metal boats - tinnies, as they are known here.
With the airport shut and most of the roads into the city closed, the Australian military is stockpiling medical supplies and food.
With floodwaters still rising, the fear is that Rockhampton could be cut off for more than a week. Australian Prime Minister Julia Gillard has said that barges and helicopters will be used if necessary to keep the town supplied.
Deon Barden lives on the fringes of Rockhampton - he is on one side of the flood plain to the south of the city and his wife is stranded on the other.
With the waters of the swollen Fitzroy River rising faster than expected, he is not expecting to see her for some time.
"My missus and everything is all stuck in Rocky - I'm out here by myself so I'll have a bit of peace and quiet if anything," he said.
"It's unbelievable, it really is, absolutely bloody unbelievable. It's amazing, you just don't see anything like this happen do you? What a mess."
Tanya Hallam had been looking forward to the happiest day of her life - a new year wedding celebrated in a waterfront setting called the Boat Club.
But the nuptials are on hold and so, too, the honeymoon. Instead her thoughts are on protecting her flood-threatened home from looters.
After a few drinks at a friend's house Ms Hallam emerged at 0400 to find dogs barking and their car broken into.
"But they didn't just do our car; they did nine in total in the street. So it's disheartening that people sink to that level," she told the Australian Broadcasting Corporation.
Snake fears
Police officers have been wading chest-high through the muddy waters ordering some people to leave their homes.
But although the evacuation centre in the town can accommodate 1,500, it housed little more than 50 on Sunday night.
The police are stressing that people have little to fear from crime, and the New Year period has been quieter than normal in terms of break-ins and thefts.
Police are also urging Queenslanders to stay out of the floodwaters. Three people have now been killed since the New Year began - and 10 have lost their lives since the tropical rains started back in November.
There is the danger from the strong currents and also the threat from venomous snakes.
Recalling the 1991 floods that hit Rockhampton, one local woman told me she and her husband had had to shoot 33 snakes that had invaded their home close to the banks of the Fitzroy River.
Their shotgun is ready again.
Following on from the wettest spring on record, this crisis has been weeks in the making. Now, it is reaching its peak.
Of course, Queensland prides itself on being Australia's Sunshine State. Its proud boast is that it is beautiful one day and perfect the next.
But that must sound like a sick joke right now for the people of 20 towns and cities hit by the most widespread flooding in its history.