Philippine communist Ka Bart caught as truce ends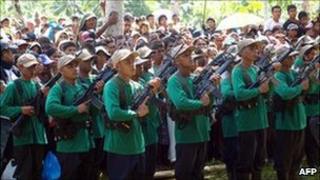 A top Philippine communist rebel, Tirso Alcantara, known as Ka or Comrade Bart, has been captured, officials say.
The rebel leader was in charge of the New People's Army or NPA, the communists' armed wing, on the northern island of Luzon.
He had 23 arrest warrants out against him. His capture came just hours after the end of an 18-day Christmas truce.
The Communist Party of the Philippines has agreed to enter peace talks with President Benigno Aquino's government.
Ka Bart was caught as he was trying to draw his gun in Lucena City, south of the Philippine capital, Manila, army chief Lt Gen Arturo Ortiz said.
The communist was wounded in the buttocks and has been transferred to a medical facility in Fort Bonifacio army camp in Manila.
"He can be considered one of the legends of the NPA," General Ortiz told local television.
Mr Alcantara, who faces at least 23 murder charges, was commander of the Regional Operational Command of the Southern Tagalog Regional Party Committee when he was caught.
Talk time?
He had been a spokesman for a highly successful rebel unit, and responsible for a party body which asserted political control over the NPA, before choosing to return to a military role, officials said.
The police chief from Quezon province, Ericson Velasquez, said an accomplice of Mr Alcantara was arrested with him.
The truce between government soldiers and communist fighters ended on Tuesday and was the longest such Christmas truce in a decade.
It was one of several confidence-building measures agreed by negotiators as a prelude to the resumption of peace talks.
These are due to begin next month in Norway.
Last month, President Benigno Aquino ordered the release of 43 health workers accused of being communist rebels.
Mr Aquino said "their right to due process" had been denied during nearly a year in detention.
The chief negotiator of the Communist Party of the Philippines, Louie Jalandoni, told the BBC recently that freeing the health workers was one of several confidence-building measures that they hoped to see ahead of the talks.
The government wants to end the 42-year insurgency by communist rebels, which has claimed tens of thousands of lives.
If the talks go ahead, they will break a five-year hiatus in the peace process.