Queensland floods: Recovery will be 'hell of a job'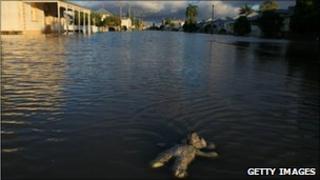 The head of Queensland's flood recovery task force says it will take "a hell of a lot of work" to get devastated communities back on their feet.
Maj Gen Mick Slater said infrastructure and major industries would be rebuilt as quickly as possible.
Queensland has been in the grip of Australia's worst flooding in decades, with some 200,000 people affected.
More rain is forecast in central and southern areas, with new flood warnings for neighbouring New South Wales.
Maj Gen Slater's comments followed a visit to Rockhampton, one of Queensland's worst-hit cities.
"I've flown into Rockhampton as a soldier many, many times. This is the first time it's looked like a group of tropical islands," he said.
He said the scope of the damage was not yet clear as water levels there remained just below a peak of 9.2m (30ft) earlier this week, but he said it could take "potentially years" to fully restore the infrastructure ruined by the floods.
Some 1,200 homes in 40 communities have been inundated and almost 11,000 more have suffered water damage, officials say.
So far, Queenslanders have put in insurance claims of about A$150m (£92m), Australian media report.
With natural disasters declared across an area of a million square kilometres, Queensland State Premier Anna Bligh has said the total flood bill could exceed A$5bn (£3bn).
New flood threat
In southern Queensland, the residents of St George are bracing for the second record flood in less than a year.
Water levels on the Balonne River are expected to pass last year's 13.4m record on Saturday and continue rising on Sunday.
In the neighbouring state of New South Wales, rivers swollen by weeks of persistent rain are expected to start bursting their banks this weekend amid downpours across the region.
The Bureau of Meteorology is predicting 200mm of rain on Sunday.
"We're preparing for what we call level three flood operations, which is the major flood event," a regional State Emergency Service operations controller, Darren Winkler, told ABC.
Meanwhile some Queensland residents have begun returning to their homes.
On Thursday, residents of the south-west town of Condamine, who were airlifted to safety a week ago when the local river flooded, began surveying the damage.
"Nothing does justice to the devastation you come back to, it's just phenomenal," pub owner Shane Hickey told the Associated Press.
"Everything is gone, the water just took everything with it. All the grass is mud, all the plants have been torn out of the ground, the trees have gone over and are just covered in silt and mud."
The town still has no drinking water and officials have warned of waterborne disease.