'Milkshake murder' retrial opens in Hong Kong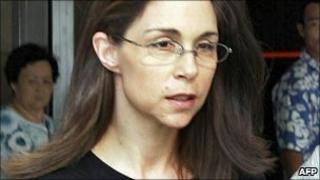 The retrial of the American Nancy Kissel for killing her banker husband in 2003 has begun in Hong Kong.
Mrs Kissel admits manslaughter but pleaded not guilty to the murder Robert Kissel, a former senior investment banker at Merrill Lynch.
The mother-of-three is being retried after the original murder verdict was overturned on appeal last year.
The case has captivated Hong Kong with its tale of death, wealth, drugs and adultery.
Mrs Kissel was jailed for life in 2005 for lacing her husband's strawberry milkshake with sedatives in 2003 and then bludgeoning him with a statuette.
The court heard how she rolled him up in a carpet, which was later put in a store room by removal men.
She says she was the victim of a violent husband who abused drugs and alcohol.
Her defence team also say inadmissible evidence was used in the original trial.
In addition, Mrs Kissel's lawyer claimed intense media coverage had made it impossible for his client to have a fair hearing.
The case led to at least one book and a film.
The retrial is expected to last about 50 days.