New Zealand intelligence failed on fantasist scientist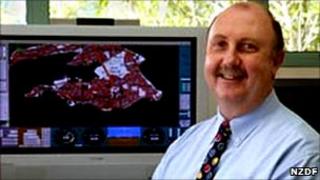 New Zealand's intelligence service did not follow "basic procedures" in vetting a defence scientist who turned out to be a fantasist, according to Prime Minister John Key.
British-born Stephen Wilce was hired as chief of New Zealand's Defence Technology Agency in 2005, having got top level security clearance.
Last year it emerged that he had made a series of false claims about his past.
Mr Key then ordered an inquiry by the State Services Commission (SSC).
As head of the DTA for five years, Stephen Wilce oversaw 80 staff and had access to highly classified intelligence.
He resigned in September 2010 after a TV programme revealed he had falsely claimed to be a former Royal Marine and to have raced in an Olympic bobsleigh event against the Jamaican team depicted later in the movie Cool Runnings.
Tall tales
On Friday, the SSC released its report into how Mr Wilce had passed security checks when he applied for the defence post in 2005.
"The report finds the vetting process in respect of Mr Wilce failed to follow basic procedures in the provision of a professional security service," said the prime minister.
"The State Services Commissioner has said further action needs to be taken to demonstrate confidence in the vetting system," said Mr Key.
A separate military inquiry concluded last year that Mr Wilce had embellished claims about his former military work, academic qualifications and life experience.
Investigators uncovered other fabrications: for example, the scientist reportedly told colleagues that he had served as a helicopter pilot with Prince Andrew, and that he had been a spy with British intelligence.
He also apparently claimed he had designed the Polaris missile guidance system, been a member of the Welsh rugby union team and had a career as a guitarist on the British folk music circuit.
Mr Wilce told the investigators he had been telling tall stories about himself since childhood.