Driver jailed over China villager Qian Yunhui's death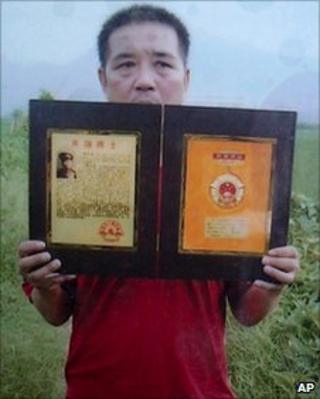 A Chinese court has jailed a truck driver over the death of a village chief in a case which triggered a campaign over allegations that he was murdered.
Qian Yunhui was crushed under the wheels of a lorry on 25 December near his home village of Zhaiqiao.
He had been leading protests against the construction of a power station.
The authorities said it was a traffic accident, but local people suspected foul play.
Mr Qian had been arrested three times and had made enemies because of his campaign for compensation for farmers whose land was seized to make way for development in 2005.
New footage
The case has attracted huge attention at a time when many in China express a distrust in official statements and the credibility of the justice system.
It was taken up by internet forums and quickly became one of the most discussed stories on the web.
Some Chinese journalists and academics organised their own investigations, finding witnesses who claimed Mr Qian had been seized by four men and held down before the lorry went over him.
But the court ruled that the driver of the truck was at fault, underlining the police version of events as a traffic accident.
It sentenced Fei Liangyu to three and a half years in prison. The family is also to receive compensation of 1.05m yuan (£99,000; $159,000).
During the trial, police presented video footage they said had been taken by Mr Qian's wristwatch.
The pictures, shown on Chinese state TV, show a figure walking before the footage is blurred and ends with the shot of a lorry wheel, AFP reported.
The trial was held in public with some of the proceedings covered extensively in the media in an apparent attempt by the authorities to show transparency.
The Chinese authorities have grown increasingly concerned over expressions of public anger in recent years.
Land requisitions to make room for development are a particular flashpoint, as is alleged corruption by local and regional officials.