China demand 'means HK parents cannot get baby milk'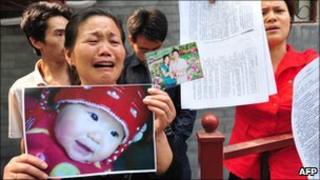 As China closes down for the Chinese New Year holiday, traders in the south are being accused of snatching milk powder supplies from Hong Kong, leaving the shelves there bare.
Chinese parents lost confidence in local suppliers of infant baby formula two years ago when melamine-tainted milk powder poisoned 300,000 babies.
Now Hong Kong parents are complaining they cannot buy milk powder.
The government there has been asked to consider a punitive tax on exports.
Many Chinese parents no longer trust local suppliers of infant dairy formula. Imports of foreign brands doubled last year. These sell at a premium.
That is encouraging traders from southern China to cross the border into Hong Kong in search of supplies.
A trade association for pharmacies there says people from the mainland have been offering shopkeepers an extra $6 (£3.72) for every $25 tin of baby milk powder to try to persuade them to hand over all their supplies.
The strength of the Chinese currency, the yuan, against the Hong Kong dollar helps make the transaction profitable.
The shortages on the mainland mean the milk powder can be sold here for a considerable mark-up.
Parents and lawmakers in Hong Kong have suggested a tax on milk powder exports, anything from 50% of the purchase price to 10 times the value of each tin.
If that does not work some have suggested the police search people crossing the border and enforce a limit of one tin per person.
Hong Kong's government says a tax would fall foul of World Trade Organization rules on free trade.
It has pledged to work with the manufacturers of milk products to ensure there are adequate supplies.