Beijing's Qianmen district: Rebuilt for better or worse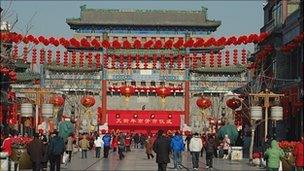 Many parts of China are being rebuilt, renovated or spruced up - and Beijing's Qianmen district illustrates both the benefits and the drawbacks.
Qianmen, which means "front gate" in Chinese, is one of the top destinations for tourists in the capital.
Sitting on the south side of Tiananmen Square, it was once an important commercial area just outside the main city walls, selling everything from Chinese medicine to bolts of silk.
Much of the area has been rebuilt over recent years, and on the main street some of the old architectural styles have been preserved. With its traditional shop fronts, it looks like it did 100 years ago.
A number of long-established Chinese shops are still there, but they have been joined by stores selling Western brands.
Rolex, Zara and Starbucks have branches alongside some of Qianmen's famous Beijing establishments, such as the Quanjude roast duck restaurant.
The city government is proud of the refurbishment, and many Beijing residents love the new Qianmen, including Song Guiqing, who visits the street to buy tea.
"I've been coming here to buy tea as long as I've been drinking it," said the 66-year-old, who lives in a distant part of the city.
"Qianmen is a lot cleaner than it was in the past and it's gone upmarket. It was starting to look very tatty."
But not every part of the area has yet been renovated.
Just to the east of the main street lie rows of derelict courtyard homes that have been earmarked for redevelopment.
Most of the residents have been moved out into apartments that have all the modern conveniences that their old homes lacked.
Some of them were unwilling to go and protested about being forced out.
The rebuilding of Qianmen has required thousands of people to move and dozens of businesses to close.
In this derelict eastern area, there are still a few die-hards who refuse to move. Feng Xuyun and her husband are two of only a few dozen people still left.
"I've lived here for more than 50 years. I'm too old to move to a high-rise apartment," said the 58-year-old.
Change is happening so quickly in many parts of China that people often struggle to keep a link with the past.
After leaving Mrs Feng's small and cold home I came across a man who was walking around the narrow streets, which he often used to visit when a friend lived there.
Like almost everyone else, the friend has gone, but the man had come back just to see if the district was still there.
Mr Zhou (he did not want to give his full name) said his friend had a far more comfortable life in his modern apartment.
But was there anything better about living in courtyard homes?
"Of course there is. The relationship between neighbours is different. People used to help each other, now they live behind closed doors," he said.
China's rush to modernise is fuelled by a desire to create a better society, but in the process much is being swept away.