Gunmen kill five villagers in southern Thailand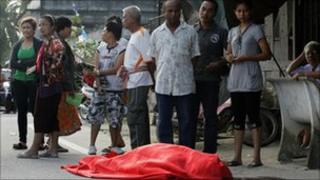 Suspected separatist militants have killed five Buddhist villagers and injured two more in southern Thailand.
The gunmen opened fire from a truck as the villagers were sitting outside a teashop in Pattani.
Pattani is one of three southern provinces where Muslim militants seeking greater autonomy are involved in a campaign of violence.
Attacks have escalated recently; a roadside bombing last week killed nine people.
The southern violence has claimed more than 4,300 lives since a decades-old separatist campaign reignited in 2004.
Thailand annexed the three provinces - Narathiwat, Yala and Pattani - in 1902, but the majority of people there are Muslim and speak a Malay dialect, in contrast with the Buddhists in the rest of the country who speak Thai.
Critics accuse the government of failing to address the grievances of these residents.
In the latest attack, several gunmen shot at a crowd at a teashop using automatic weapons. Three men and two women were killed, police said.