Aung San Suu Kyi party seeks Burma sanctions talks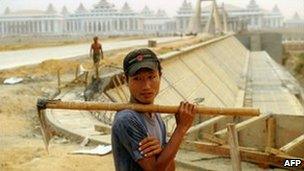 The banned party of Burma's Aung San Suu Kyi has said it wants international talks on "modifying" sanctions.
The National League for Democracy (NLD) said it wants discussions with Western nations that impose sanctions.
The NLD said sanctions primarily affect Burma's rulers, not the general public - but did not say whether it wanted them dropped or strengthened.
Western sanctions have been imposed for more than 20 years in response to abuses by the military junta.
Aung San Suu Kyi's release from house arrest in November following Burma's first election in 20 years reignited debate over the effectiveness of the measures.
Burma's military rulers have long argued against sanctions, saying they hurt the people of Burma and have pushed the country deeper into poverty.
But in a report the NLD said: "Targeted sanctions serve as a warning that acts contrary to basic norms of justice and human rights cannot be committed with impunity even by authoritarian governments."
The party blamed the country's hardships on "misguided government policies", not sanctions.
It said it was seeking talks with the US, EU, Canada and Australia to see "when, how and under what circumstances sanctions might be modified in the interests of democracy, human rights and a healthy economic environment".
Since her release, Aung San Suu Kyi has called for greater foreign investment in her country, which she says has been "left behind".
In an audio address to the recent World Economic Forum, she said the 55 million people in Burma yearned to be a part of the global community.
Burma had "already missed so many opportunities because of political conflicts", she said - but added that potential investors should "put a premium on respect for the law".
Burma's November election, which was widely criticised by Western nations and the Burmese pro-democracy opposition, has left the military and its proxies firmly in control of the new parliament.
The NLD, which won the last elections in 1990 but was never allowed to take power, is not represented in parliament.
It disbanded ahead of the November election because of election laws that would have forced it to expel its leaders.
Burma's Supreme Court recently upheld a ruling on the dissolution of the NLD.
Related Internet Links
The BBC is not responsible for the content of external sites.