Taiwan general Lo Hsien-che held on China spy charges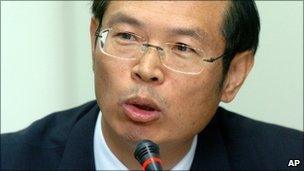 A Taiwanese general has been detained on suspicion of spying for China - the highest-ranking officer allegedly involved in espionage in decades.
Maj Gen Lo Hsien-che was recruited by China in 2004 while he was stationed in Thailand, the defence ministry said.
Local media reported he had leaked details of Taiwan-US programmes, but officials expressed doubt that he had access to such information.
His arrest follows an investigation launched last year.
Officials said Gen Lo was posted to Thailand between 2002 and 2005, and was promoted to major general after his return to Taiwan.
At the time of his arrest, he was head of the military command's communications and information office.
Local media reported that the authorities raided his home and recovered documents relating to the $1bn (£0.6bn) Po Sheng defence system that Taiwan is purchasing from US defence contractor Lockheed Martin.
But an unnamed US-based official told Taiwan's Central News Agency that the general should not have had access to US-related information, so any secrets leaked were unlikely to be connected to US intelligence.
The defence ministry has set up a group in an attempt to limit any possible damage, according to Lt Gen Wang Ming-wo, of the ministry's Political Warfare Bureau.
"He has brought shame to the military. Servicemen are supposed to be loyal to their country," Mr Wang told AFP news agency.
Gen Lo is the most senior officer accused of espionage since the 1960s when a vice defence minister was arrested amid a crackdown on Communist spies.
Critics say his alleged connection with China and the fact it took several years to detect has revealed a security loophole.
Tensions have run high between the two sides since 1949, when Taiwan was separated from China at the end of a civil war.
China sees Taiwan as part of its territory and has threatened to use force if the island ever moved to declare formal independence.
But there has been an unprecedented warming in relations since Taiwan's President Ma Ying-jeou took office in 2008.
Despite this, Taiwan's military has repeatedly said that it will not let its guard down against the mainland's government.
"Although tensions across the Taiwan Strait have eased over the past more than two years, the Chinese Communists have not stopped their infiltration into Taiwan," said Mr Wang.
"Instead, they have been stepping up their intelligence gathering, what we call the 'smokeless war' against us."
Related Internet Links
The BBC is not responsible for the content of external sites.