Greenpeace's Rainbow Warrior bids farewell in Hong Kong
By Annemarie Evans
BBC News, Hong Kong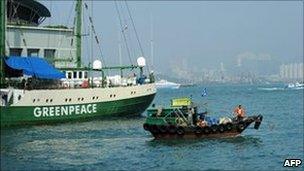 The Greenpeace flagship, the Rainbow Warrior II, has arrived in Hong Kong on its farewell tour to Asia.
It is the swansong of this former British fishing trawler on her farewell tour of Asia.
The ship was bought 22 years ago from compensation money received by the environmental group after the French secret service bombed the original Rainbow Warrior in New Zealand in 1985.
The tour also marks 40 years of Greenpeace actions.
The ship is being replaced by a modern and more environmentally friendly ship later this year. The Rainbow Warrior III is currently being built in Poland.
Lion dancers greeted the crew of the Rainbow Warrior docked at a public pier in Hong Kong's business district.
Marine police had been closely watching the boat, crew members said, possibly nervous of what actions the crew have planned for their three-week stay in the city.
The ship's captain, South African Mike Fincken, remarked on the air pollution he could see round the city's skyscrapers as the ship entered Hong Kong waters.
"I did notice sailing into Hong Kong, there seems to be a continuous sort of haze around the buildings, which I've been told is air pollution," he said.
"Hong Kong, being one of the most affluent cities of the world, really should be counted as a leader towards greener energy solutions."
The group will be holding open days and tours aboard the Rainbow Warrior.
However, it was tight-lipped about actions planned to highlight climate change and what they call Hong Kong's dirty energy policies involving both nuclear power and electricity from coal-fired power stations.
Greenpeace has previously embarrassed the city's leader, Chief Executive Donald Tsang.
It hung a huge "Wanted" banner with his face on it on a finance building in Hong Kong, saying he was a climate change fugitive.
Related Internet Links
The BBC is not responsible for the content of external sites.