Philippines Muslim rebels in talks in Malaysia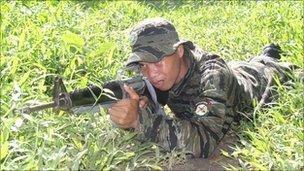 The Philippine government is holding peace talks with the country's main Islamic militant group.
After months of delays, delegates from President Benigno Aquino's peace panel are meeting their counterparts from the Moro Islamic Liberation Front.
The second of a scheduled two days of discussions is underway in the Malaysian capital, Kuala Lumpur.
Both sides say they are optimistic that a peace deal can be signed within a year, despite the many hurdles ahead.
This is the twentieth round of talks between the government and the Moro Islamic Liberation Front, or MILF.
But this time, there is an important difference.
These negotiations are the first since President Benigno Aquino came to power last June.
One of Mr Aquino's key election pledges was to do all he could to negotiate peace with the country's various insurgencies, and in the months after his inauguration, the MILF was optimistic that a settlement could soon be reached.
But disagreements over the choice of Malaysian facilitators for the talks, and the recent arrest of several MILF members, have lowered the group's expectations.
The government has got its own concerns.
It said news last week of a split in the MILF leadership could seriously hamper the rebels' ability to deliver on any commitments they make at the talks.
The MILF has been fighting for an independent Muslim homeland for nearly four decades, and an estimated 120,00 people have been killed in the conflict.