North Korea rejects new talks with 'sinister' South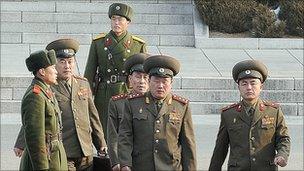 North Korea has announced that no new talks are possible with South Korea.
A North Korean military statement blamed South Korea for "sinister" motives and for the collapse of preliminary military discussions.
The talks at the border village of Panmunjom were the first since the North shelled a South Korean island in November, killing four people.
Earlier, South Korea said it had in principle accepted a North Korean offer to resume talks on humanitarian issues.
These include reuniting families separated by the Korean war, and joint tourism and industrial projects.
North Korea's statement, published by the Korean Central News Agency, said the South had made "unreasonable" demands.
South Korea has been seeking an apology from the North for its shelling of Yeonpyeong Island, and for the sinking of a South Korean warship, the Cheonan, in March last year, which resulted in the loss of 46 South Korean lives.
North Korea denies sinking the ship and says the shelling was provoked by South Korean military exercises.
"They thus revealed their sinister intention to use the North-South high-level military talks as another theatre of inter-Korean confrontation," said the North Korean military statement.
"The army and people of (North Korea) do not feel any need to deal with the group of traitors any longer now that they do not wish to see the North-South relations improved but totally reject the dialogue itself."
The military talks were intended to lay the groundwork for higher-level discussions, possibly between defence ministers, aimed at easing heightened tensions on the peninsula.
But the talks broke down without agreement on an agenda or even a date for further preliminary talks.
South Korea had wanted the formal military talks' agenda to be topped by the two attacks and its need for a "sincere" response from the North.
"We cannot just put aside (the two attacks) because of our people's pains over them," the chief South Korean delegate, Col Moon Sang-kyun, told reporters.
South Korea's unification ministry said a date and venue for talks mediated by the Red Cross would be set after the preliminary military talks had ended.
But North Korea's delegates walked out soon after Wednesday's session had begun, and both sides have blamed the other for the breakdown.