Japan's Ozawa refuses PM Kan's request to quit DPJ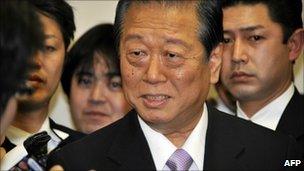 Japan's Ichiro Ozawa has refused to leave the governing Democratic Party of Japan (DPJ) while he stands trial over fundraising fraud allegations.
Mr Ozawa, who denies the charges, said PM Naoto Kan had asked him to stand down voluntarily from the DPJ while the trial took place.
But he said doing so would not be "appropriate for the advancement of sound party politics".
The scandal has deeply divided the DPJ, which has been losing public support.
Mr Ozawa, a founder member of the DPJ, was indicted on 31 January for alleged false reporting by his fund management company.
He told a news conference in Tokyo that Mr Kan had asked him to leave the party until the trial was over.
"I have made up my mind to continue my activities under my current status," he said.
"It can't be helped if a majority [in the party] think that I should distance myself from the party or that the party should punish me in some way," he said.
"But this isn't appropriate for the advancement of sound party politics or for democracy."
At a separate news conference, the DPJ's secretary general Katsuya Okada said Mr Ozawa had shown "no intention of voluntarily leaving the party", the AFP news agency reports.
He said senior party executives would meet on Monday to discuss Mr Ozawa's situation.
The prime minister could now decide to force Mr Ozawa to leave, but he remains popular with a significant section of the party whose support Mr Kan needs for passing budget reforms.
Mr Ozawa has been so powerful in Japanese politics that he is known as the "shadow shogun".
He is widely credited with overseeing the DPJ's 2009 election victory, which ended half a century of almost unbroken rule by the Liberal Democratic Party.
But his career has been dogged by the fundraising scandal, which relates to a 2004 Tokyo land deal.
Last year, Mr Ozawa failed to unseat Mr Kan in a party leadership challenge.
Related Internet Links
The BBC is not responsible for the content of external sites.