Japan foreign minister in Moscow amid islands row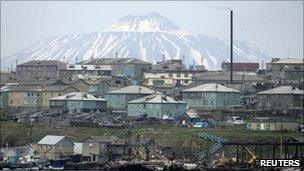 The Japanese Foreign Minister Seiji Maehara has arrived in Moscow for talks with his Russian counterpart, Sergei Lavrov.
The visit comes amid high tension over the status of a disputed island chain.
Japan is closely monitoring stepped-up activity by Russia's military near disputed islands.
Relations have been clouded by a long-running dispute over the four islands, called the Southern Kuriles in Russia and the Northern Territories in Japan.
The former Soviet Union occupied the islands off northern Japan at the end of World War Two and the row has prevented the two countries from signing a formal peace treaty despite growing economic ties.
A closed-door meeting of foreign ministers is planned, but prospects for the talks remain uncertain.
"First and foremost, we expect our Japanese colleagues to fundamentally change their attitude toward Russia," said Russian foreign ministry spokesman Alexander Lukashevich.
Rhetoric between the two countries has reached new levels this week.
President Dmitry Medvedev had infuriated Japan in November by making the first visit by a Russian leader to one of the islands.
After Mr Medvedev had described the area as a "strategic region" of Russia, Mr Maehara asserted the Russian President's view was irrelevant.
"Regardless of how many (Russian) senior officials go there and who goes there, and whether it increases or decreases its military presence, the legal value (of Russia's claim) does not change," Mr Maehara said.
"Our resolve remains absolutely unwavering."
On Monday, Japanese Prime Minister Naoto Kan called Mr Medvedev's visit to the islands last year an "unforgivable outrage".
However, Mr Medvedev said on Wednesday that Russia would deploy modern weaponry to ensure the security of the islands.
"We will make every necessary effort to strengthen our presence on the Kuril islands. This is our strategic region," Mr Medvedev said during a meeting with Russia's defence and regional development ministers.
Russian Defence Minister Anatoly Serdyukov said that his officials would prepare a deployment programme by the end of February.
A day later, Mr Maehara said Russia has no legal right to occupy the islands.
Japan had designated 7 February as Northern Territories Day, marking the anniversary of an 1855 treaty which Tokyo says confirms its claim.
Russia's Mr Lavrov has accused Tokyo of supporting Japanese nationalist organisations, whose members reportedly burned a Russian flag during the demonstration in the Japanese capital.
Aside from sovereignty concerns, Japan would like to exploit the islands for natural gas; Russia has proposed making the islands into a free trade zone
Related Internet Links
The BBC is not responsible for the content of external sites.