Somalia 'pirates' charged in Malaysia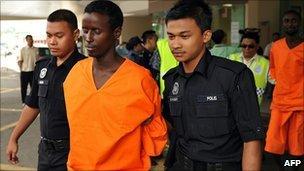 Malaysian prosecutors have filed charges against seven Somali men and boys accused of being pirates.
They were captured by the Malaysian navy last month as they tried to hijack a chemical tanker in the Gulf of Aden.
All seven are accused of using firearms against the Malaysian armed forces - a charge which carries the death sentence.
But prosecutors said three 15-year-old suspects would not face execution because they were too young.
The Somalis appeared in court on Friday in the Malaysian capital, Kuala Lumpur, handcuffed and wearing orange prison overalls.
They heard the charges read against them but did not enter a plea.
The seven are accused of trying to hijack the MT Bunga Laurel, a chemical tanker, on 20 January.
Malaysian troops stormed the ship and rescued the 23-strong crew.
The vessel was operated by a Malaysian company but was owned by a Japanese firm, had a Filipino crew and its cargo was bound for Singapore.
The Gulf of Aden, between Yemen and Somalia, is one of the world's busiest shipping routes and has become a hotspot for pirate attacks.