Japanese married name law challenged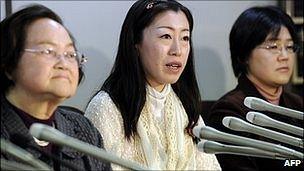 Four Japanese women and a man have filed a challenge to a 19th Century law that compels couples to share a surname after marriage.
In most cases women give up their family name. A husband can adopt his wife's name but few men do.
The plaintiffs say the law violates Japan's constitutional guarantee of equal rights in marriage.
Conservatives have opposed reform on the grounds that it would undermine family unity.
The landmark case has been launched in Tokyo District Court.
Kyoko Tsukamoto said that being forced to use her husband's name officially for more than 50 years was "like having a splinter in my heart".
"I want to die as Kyoko Tsukamoto," said the retired school teacher who uses her maiden name for private purposes.
"I'm happy to file the lawsuit together with my companions who have the same ambition," she told a news conference.
"It's going to be a long fight. Please help us."
Emie Kayama, another plaintiff, said that names should be chosen "not by law but by individuals".
"I don't want my husband to change his surname because I don't want him to feel the same way I have," she said.
The BBC's Roland Buerk in Tokyo says calls for change have grown as women have increasingly stayed in jobs after marriage.
Many have to juggle two names - their maiden name at work and their married name on official documents like passports and credit cards.
However, public opinion in Japan has been sharply divided on the issue.
In a recent government survey, 37% of those questioned said they supported reforming the civil code, while 35% were against.