Thailand-Cambodia border dispute: UN calls for truce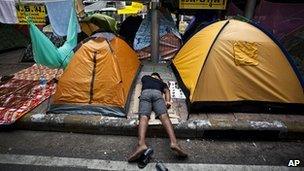 The UN Security Council has urged a permanent ceasefire between Cambodia and Thailand after deadly clashes in their disputed border area this month.
Four days of fighting left eight dead, displaced thousands and caused some damage to the World Heritage-listed Preah Vihear temple.
The council also backed mediation efforts by Asean, the regional grouping of south-east Asian nations.
The council's president said there was "great concern" over the clashes.
Maria Luiza Ribeiro Viotti was speaking after after closed-door talks with the foreign ministers of Cambodia, Thailand and Indonesia.
Thailand opposes UN mediation, saying it can settled by the two states.
But Cambodia has described itself as being at war with Thailand and has suggested the UN send peacekeepers to the disputed area.
The council, Ms Viotti said, "called on the two sides to display maximum restraint and avoid any action that may aggravate the situation".
Indonesia, as the current president of Asean, has been leading mediation efforts.
In recent days the guns have fallen quiet, but the situation at the border between the two countries remains extremely tense, the BBC''s Rachel Harvey reports.
The two heavily armed militaries are ranged against each other across a 4.6-sq km (1130 acres) stretch of disputed land.
Related Internet Links
The BBC is not responsible for the content of external sites.