Long-awaited Philippine peace talks open in Norway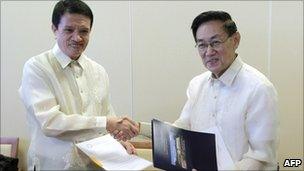 Peace talks between the Philippine government and communist rebels have resumed in Norway, more than six years after the last round broke down.
The negotiations near Oslo are aimed at ending the 42-year insurgency, which has claimed tens of thousands of lives.
Talks got under way just hours after the arrest of a top guerrilla leader.
Allan Jazmines, a member of the central committee of the Communist Party of the Philippines (CPP) was charged with murder and rebellion, officials said.
The CPP and its armed wing, the New People's Army (NPA), have been fighting for more than 40 years.
About 4,700 NPA rebels continue to fight, mainly in the poorest areas of the Philippines.
For more than 25 years, successive Philippine administrations have held peace talks with the rebels via their Netherlands-based political arm, the National Democratic Front.
The last peace talks, under former President Gloria Arroyo, failed when the CPP and the NPA were placed on US and EU terrorist lists - a move they suspected Mrs Arroyo of instigating.
The BBC's Kate McGeown, in Manila, says those hoping for more success this time point to the relatively untainted presidency of Benigno Aquino.
The talks facilitated by Norway are not expected to produce immediate results but both sides may agree to hold more talks and extend a ceasefire.
A ceasefire between government troops and the CPP is in effect for the week-long closed-door talks.
Negotiators for the communists said they feared the arrest of Jazmines could undermine any progress and called for his release.
In his opening statement, CPP negotiator Luis Jalandoni urged the government to release Jazmines and four other detained rebel leaders.
"Such a release will be of positive value towards the continuation of the peace negotiations," he said.
He also called for the release of 350 "political prisoners", whom he said had been "victims of false charges" under the former political regime.
Government negotiator Alexander Padilla said the prisoner issue should be dealt with as a side issue.
"We are focused on trying to come up with solutions to the armed conflict. That will mean talking about economic and social reforms and political and constitutional reforms," he said.
The Philippine army said it would release Jazmines if he was among the rebels to be granted temporary immunity by the government due to their role in the talks.
Related Internet Links
The BBC is not responsible for the content of external sites.