Burma Rohingyas found drifting off Indonesia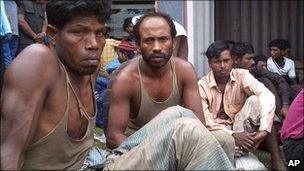 Indonesia officials say they have picked up nearly 130 starving, dehydrated people from the Rohingya minority in Burma, whose boat was found drifting in Indonesian waters.
The group had been at sea for about three weeks.
Investigators heard claims of abuse at the hands of the Burmese authorities.
The Rohingya, who are Muslims, are not recognised by the military-backed government in Burma, and have fled by the hundreds of thousands overseas.
Fishermen discovered the 45ft (14m) wooden boat off the coast of Aceh province after its engine broke down and they towed it to shore, Indonesian marine police said.
The 129 men on board had been at sea for about three weeks, Aceh provincial maritime police chief Mohammed Zaini told AFP.
One of the men, 27-year-old Nur Alam, said: "We left Myanmar because we had been cruelly treated by the military. Muslims there were killed and tortured.
"We want to go to Indonesia, Malaysia or any other country which is willing to take us in," he was quoted by AFP as saying.
The Rohingyas live in northern Rakhine state - one of the poorest and most isolated in Burma - along the border with Bangladesh.
They are denied citizenship under Burma's 1982 citizenship law; the official view is that they are illegal immigrants from Bangladesh or their descendants.
Rohingya trying to leave Burma are often harassed and beaten by the Burmese security forces, but then allowed to leave, and told never to return.
They are also unable to travel freely. The military demands that they obtain an official permit even to travel to the next town.
An estimated 200,000 Rohingyas live in refugee camps in Bangladesh.
Many of them - especially the majority that live in unofficial camps - attempt to escape poor conditions by trying to get to south-east Asia across the Andaman Sea.
The Thai authorities are currently holding in detention more than 100 other Rohingya migrants who have come ashore in recent weeks.
Thailand does not allow the Rohingya to apply for refugee status, but their situation is now being assessed by the UN's refugee agency, the UNHCR; a move the organisation describes as a step forward.
Another group of 91 Rohingya arrived recently in the Indian Andaman islands. Some in that group told the BBC they had first landed in Thailand, but the Thai Navy had then deliberately cast them adrift without a working engine.
The Thai navy was accused of a similar act in 2009, a case that became an international scandal.
The UNHCR says the Rohingya in the Andamans are the same people deported by the Thai authorities in January. But it cannot verify the circumstances in which they got from one country to the other.
The Thai government strongly denies any wrongdoing.
Related Internet Links
The BBC is not responsible for the content of external sites.