Vietnam tourist boat sinking kills 12 in Halong Bay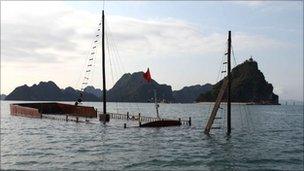 Eleven foreign tourists and their Vietnamese guide have drowned after their tour boat sank in Halong Bay in north-east Vietnam.
The wooden boat was touring in the Unesco World Heritage Site, in Quang Ninh province, when it went down.
Fifteen people, including nine foreigners, have been rescued.
It is not yet clear why the boat sank, although a local government official said initial information suggested part of the boat had broken without warning.
Halong Bay, renowned for its hundreds of tiny islands and freshwater swamp forests, is one of Vietnam's most popular tourist destinations.
The boat, reported to be a traditional junk on which people were staying overnight, went down before dawn near Titov island.
Those rescued reported seeing a wooden plank tear away from the boat, followed by a gush of water that overwhelmed it, pulling the vessel down, local government official Vu Van Thin said.
"Crew members tried to stop the water from coming in and alerted the tourists who were sleeping, but the water came in and the boat sank quickly. All of the 12 people who died were in the cabins," he was quoted by the Associated Press as saying.
The bodies were sent to a nearby hospital for formal identification.
The victims were later identified as holidaymakers from the US, Britain, Australia, Japan, Russia, France, Sweden and Switzerland, along with a Vietnamese tour guide.
Those who survived - nine foreigners and six locals - were able to jump into the water, from where they were pulled to safety by people on other tour boats anchored close by.
"The boat took one minute to sink," said survivor Stefano Corda from Italy.
The 35-year-old jumped from the boat after he felt it listing and creaking.
"We went to the exit, and the boat was almost vertical. I grabbed my friend, we went out and it was so fast," he told AP.
An investigation is under way.