China warns US over Clinton's web freedom call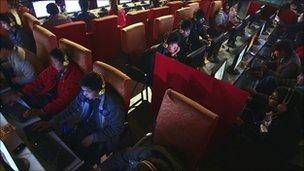 China has warned the US not to use calls for internet freedom as an excuse to meddle in other countries' affairs.
The foreign ministry comments came after US Secretary of State Hillary Clinton announced an initiative to help dissidents around the world get past government internet controls.
Since Mrs Clinton's speech, comments about it have been removed from China's popular Twitter-like microblog sites.
The US ambassador to China said online embassy comments had also been deleted.
"It is ironic that the Chinese are blocking an online discussion about internet freedom," he said, in comments confirmed by the US embassy in Beijing to the BBC.
The embassy has been using microblogs and other online services in China since 2009, in a effort to connect with Chinese citizens.
In her second major speech on internet technology, Mrs Clinton called for the world community to adopt common standards for internet use.
Speaking at a Washington university on Tuesday, she criticised those countries that sought to suppress its citizens with web-based tactics.
She said the recent internet-fuelled toppling of rulers in Egypt and Tunisia and protests in Iran, showed governments could no longer choose which freedoms to grant citizens.
"We believe that governments who have erected barriers to internet freedom - whether they're technical filters or censorship regimes or attacks on those who exercise their rights to expression and assembly online - will eventually find themselves boxed in."
Mrs Clinton said China faced a "dictator's dilemma" and risked being left behind as the rest of the world embraced new technologies.
'Pretext for interfering'
Foreign Ministry spokesman Ma Zhaoxu said that internet users in China enjoy freedom of speech "in accordance with the law."
Speaking at a regular news briefing on Thursday, he said China was willing to work with other countries on such issues but was "against any other countries using internet freedom as a pretext for interfering in others' internal affairs".
Last year, China accused Washington of "information imperialism", after a similar speech by Mrs Clinton.
China has the world's largest internet market, with 457 million people online.
Twitter is blocked there but similar services like Sina Weibo and Tencent Weibo have tens of millions of users.
Beijing uses extensive censorship controls, known as the "Great Firewall of China", to block access to material considered subversive or pornographic.