South Korea to probe Indonesia 'spy break-in' reports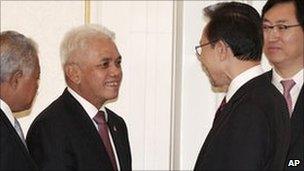 South Korea says it will investigate allegations that its spies broke into the hotel room of a visiting Indonesian delegation member to access information on a possible arms deal.
South Korean media reported that three people were found accessing files on a computer belonging to a delegation member.
The reports identified them as National Intelligence Service (NIS) staff.
The NIS denied the reports, but an official said a probe was underway.
"Indonesia asked us to verify the exact facts," Foreign Ministry spokesman Cho Byung-jae told journalists during a press briefing.
"We are verifying the facts, and we agreed to inform them as soon as we are done."
The 50-strong Indonesian delegation was in Seoul last week for three days to discuss trade and military deals.
Indonesia is considering buying T-50 Golden Eagle supersonic trainer jets from South Korea.
The Chosun Ilbo newspaper said that two men and a woman were found looking at a computer belonging to an aide of Indonesian Economic Minister Hatta Rajasa in a room at the Lotte hotel on Wednesday.
It said they left after being disturbed by a delegate.
The alleged agents "were trying to figure out the Indonesian delegation's negotiating strategies", the paper quoted a senior official in Seoul as saying.
The Hankyoreh newspaper carried a similar report.
An unidentified NIS official told Yonhap news agency his organisation "strongly" denied the report.
An Indonesian foreign ministry spokesman confirmed the break-in, but told Reuters news agency the laptop did not belong to a high-ranking official.
And the Jakarta Post on Monday quoted Mr Hatta as saying that it was a misunderstanding involving hotel guests entering the wrong room which was quickly cleared up.