Vietnam journalist Le Hoang Hung's wife held for murder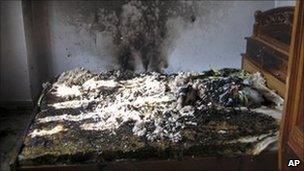 The wife of a Vietnamese journalist, who died after being set on fire, has been detained by police on suspicion of murdering her husband.
Tran Thuy Lieu, the wife of Le Hoang Hung, 51, an investigative journalist, has been with the police since Sunday.
The BBC has confirmed the arrest; the prosecutor's office is expected to issue the official charge soon.
Media groups had expressed fears that Mr Hung had been killed for his reporting of official wrongdoing.
Mr Hung had been investigating smuggling rackets and corruption while working for Nguoi Lao Dong newspaper.
He was doused with chemicals while he slept in an attack at his home on 19 January; he died from his injuries 10 days later.
The Thanh Nien daily newspaper said Ms Lieu had turned herself in and was being investigated for the murder.
Tien Phong newspaper said she had allegedly told police she killed her husband following disagreements over money and family issues.
State-controlled media have reported that Ms Lieu had gambling debts of up to one billion dong ($47,000, £29,000) stemming from 22 trips to Cambodia in December.
Describing the incident at the time of the attack, Vietnam's Dantri.com had quoted Ms Lieu, as saying: "The whole family was sleeping, and all of a sudden I heard my husband screaming [from the other room].
"Just then, he smashed through the door with his body fully engulfed in flames. We rushed to get water to throw on him in an attempt to put out the fire."
The New York-based Committee to Protect Journalists has asked that the case be investigated thoroughly.