Charities warn of food shortages in North Korea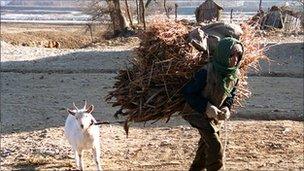 Officials from five aid agencies who have just returned from a trip to North Korea say they saw evidence of looming food shortages and alarming malnutrition, including people picking wild grasses to eat.
Pyongyang has reportedly asked a number of countries for food aid.
The United Nations has a team of international experts on the ground assessing the situation.
North Korea has suffered major food shortages in the past.
A famine in the 1990s saw hundreds of thousands of people - perhaps as many as two million - die of starvation.
It is well documented that during food shortages in the North, people will forage for weeds, herbs and wild grasses to supplement their meagre diet.
What is harder to know is the extent to which this is normal or something out of the ordinary.
The charity workers - from Christian Friends of Korea, Global Resource Services, Mercy Corps, Samaritan's Purse and World Vision - spent a week in North Korea earlier this month, invited by the government.
In their report, they say they visited hospitals, orphanages and homes as well as farms and warehouses in the north-west of the country.
The agencies report the Pyongyang government saying between 50% and 80% of the wheat and barley planted for harvesting in the spring has been killed by the extreme cold of the past two months, as well as potato seedlings.
The team also says hospitals reported an increase in malnutrition over the past six months - the aid workers themselves saw acute cases too.
The United Nations currently has a team of food experts in North Korea.
A spokesman said as well as there being a known shortfall of nearly a million tonnes in cereals, the last vegetable harvest was much poorer than expected.
It is understood that North Korea's embassies have been asking foreign countries to provide aid.
One concern of America, which until 2009 was one of North Korea's biggest food donors, is whether food reaches those in need or is given to the military and political elite.
Washington is reassessing the situation at the moment. Aid from South Korea was stopped too - apart from one small shipment last year - in protest at the lack of progress on denuclearisation.
The current issue of possible humanitarian need is set against difficult political relations after a military confrontation last year in which the North shelled a South Korean island near their disputed sea border.