People Power at 25: Long road to Philippine democracy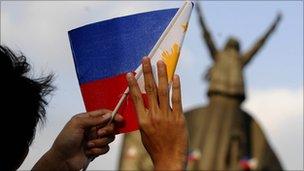 When Jose Dalisay watches the coverage of protest movements challenging and toppling regimes in the Middle East, it brings back strong memories.
Twenty-five years ago this week he was one of hundreds of thousands of Filipinos who staged their own revolution to oust then President Ferdinand Marcos.
The protesters blocked Manila's main thoroughfare, the Epifanio de los Santos Avenue, or EDSA as it's more commonly known, and despite repeated threats from President Marcos they refused to leave.
"Almost everyone I knew was there - whole families, schoolchildren, priests, nuns, everyone - you just didn't want to be anywhere else," said Mr Dalisay.
After just four days of protests, President Marcos stepped down. And those four days have affected the Philippines ever since.
The seeds of what has become known as the People Power revolution were sown long before February 1986.
President Marcos had been in power for more than 20 years, much of which was under martial law. One of the few people who openly challenged him was Ninoy Aquino - who, after being imprisoned for seven years, lived in self-imposed exile in the United States.
When Mr Aquino decided to come back to Manila in 1983, he was assassinated before he had even descended the steps of his plane.
In the months that followed, opposition movements gathered momentum around Mr Aquino's widow, Cory, and in a bid to ease the mounting tension President Marcos held a snap election. When he won, hardly anyone believed he had not rigged the result.
But it was only when a senior military official and the defence secretary both announced their opposition to the Marcos regime that the crowds started pouring onto EDSA - encouraged by the head of the country's powerful Catholic Church, Cardinal Jaime Sin.
On the afternoon of the protest's second day, the president sent in tanks to clear the street. But the troops refused to fire, prompting one of the most iconic images of the revolution - nuns standing in front of the tanks, offering flowers.
By then, even the US was urging Ferdinand Marcos to step down - a huge blow for the Philippine leader. Washington had seen him as an autocratic but useful regional ally, and President Ronald Reagan faced a dilemma similar to that which Barack Obama recently faced in Egypt.
On 25 February Ferdinand Marcos realised his time was up, and fled the country.
"At that moment, absolute euphoria broke out on EDSA," said Jose Dalisay.
"People were laughing, waving, hugging each other, singing songs. It was a moment we had never had before, and probably never will again."
Crowds even poured into the presidential palace, to provide the second lasting image of the revolution - the closet of Ferdinand Marcos' wife Imelda, with its 1,220 pairs of shoes.
Twenty-five years on, the legacy of the People Power revolution is still strong.
Democracy has returned, and never again has the country been ruled by someone as autocratic as President Marcos.
While many of the elections since 1986 have been marred by fraud and vote-rigging, the general public's level of engagement in the electoral process puts many mature democracies to shame.
According to Steven Rood, head of the Asia Foundation in Manila, several real and lasting developments were made soon after Cory Aquino took power.
Freedom of the press was restored almost immediately, a new constitution was written, and despite several coup attempts against Mrs Aquino, the military was back under civilian control within a decade, Mr Rood said.
Events in the Philippines also had an effect on other nations in the region, such as Taiwan and South Korea, which were soon to take their own steps towards democratisation.
But the revolution did not bring a fairy-tale "happy every after".
"We achieved what was most precious to us, which was our freedom, which enabled a lot of other things," said Mr Dalisay, now one of the country's most famous novelists.
"But it hasn't been perfect. We learnt many lessons, and chief among them was that freedom is more difficult and complex than dealing with a dictatorship."
There was another People Power revolt 15 years later - in which President Joseph Estrada was ousted due to allegations of corruption, something that continues to plague government and military institutions today.
And while the revolution brought some name changes in the top echelons of power, that power remained concentrated among a small rich elite - something that is still the case today.
Cory Aquino's administration also brought few improvements to the lives of the poor, and failed to lessen the yawning gap between them and the moneyed few.
"This was a political revolution, not a social revolution," said Mr Rood.
And perhaps most surprisingly, the revolution also failed to get rid of the Marcoses.
Ferdinand died in Hawaii shortly after he was ousted from office, but his flamboyant 81-year-old widow Imelda is back in the Philippines, with a seat in Congress.
Several of his children also hold government posts - his son Bongbong is an influential senator and could well run for the presidency in the next elections in 2016.
In fact, amid this week's anniversary celebrations, Bongbong's is a lone critical voice of how history has played out. He told local media on Tuesday that if his father had remained in power, the Philippines might have become as prosperous as Singapore.
Privately, some others are also beginning to look back more kindly on the Marcos regime - focusing on his investments, infrastructure and public works, rather than the human rights abuses and claims of lavish personal spending.
But love or hate Ferdinand Marcos, there is little doubt that People Power protesters 25 years ago profoundly changed the course of history.
There are many events this week marking their actions - one of the main ones being the unveiling of a statue of Cardinal Sin by the current president, Noynoy Aquino, the son of Ninoy and Cory.
When asked if he had anything he would like to tell today's demonstrators in the Middle East and North Africa, Jose Dalisay said he wished them every success.
But he added that they needed to realise one thing: "This is only the beginning of a long road to change and reform."