Philippines politician Singson to lose seat over drugs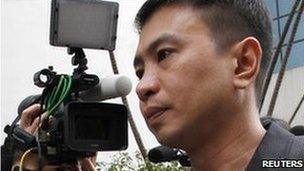 A Philippines congressman sentenced to 18 months in a Hong Kong jail on drugs charges is set to resign his seat.
Ronald Singson holds his family's long-held seat in the northern province of Ilocos Sur.
His father, elder statesman Luis Singson, claimed the drugs charge was a set-up but said his son would quit.
Singson pleaded guilty to possession after a vial of cocaine was found in his underpants, at the airport last July.
The senior Mr Singson, famous for helping to bring about the downfall of former President Joseph Estrada in 2001, said his son had been planning for some time to quit the post.
Other members of the Philippine House of Representatives said Mr Singson should resign, or be expelled.
"For the sake of Congress as an institution and for his own sake, the honourable thing for him to do is to resign," said Ben Evardone, a congressman from Eastern Samar.
"Otherwise, I think Congress will have no other option but to expel him."
Singson, 42, was originally charged with drug trafficking but convicted of the lesser charge of possession.
Hong Kong District Court Judge Joseph Yau said his crime was a serious fall from grace, but said he gave a relatively light sentence in light of Singson's obvious remorse.