Thailand police investigate baby sales ring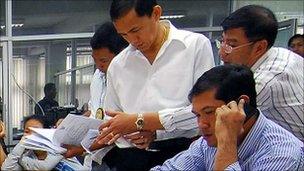 Police in Thailand say they have broken up a Taiwanese-run ring which forced Vietnamese women in Thailand to have babies for subsequent sale.
Several Taiwanese, Chinese and Burmese people were arrested for allegedly running the operation, police said.
The business, called Baby 101, advertises surrogate motherhood services in Thailand.
Thai officials said, however, that some of the pregnant women involved had been forced into it.
"This is illegal and inhuman. In some cases it looks like they were raped," said Public Health Minister Jurin Laksanawisit.
The Baby 101 company appears to have received orders by email or through agents for babies.
Its website boasts of the good looks and health of the male sperm donors and the female ovum donors; it shows houses and hospitals in peaceful grounds with a swimming pool and high security.
An official from the Ministry for Social Development and Human Security said up to 14 Vietnamese women were now being looked after in a safe place.
The official told the BBC the women were frightened, and said their passports had been taken by those running the business.
Police made the arrests after some of the women had sent an email to the Vietnamese embassy in Bangkok.
"We found 13 people in two houses when we searched. We found one more today at the hospital," said Lieutenant Colonel Prasat Khemaprasit of the Immigration Police.
"Nine of the women said they had volunteered to work because they were told they would earn $5,000 (£3,102) for each baby. Four said they were tricked," said Major General Manu Mekmok, commander of investigations for the immigration department.
Officials from health, welfare and police departments are meeting to consider how to take the investigation further.
Surrogacy for commercial purposes is banned in Thailand, reports the BBC's Vaudine England in Bangkok.
The Medical Council can allow surrogacy in rare cases - but only if no money is involved and if the surrogate is a relative of the potential parents.
Officials said the issue had to be taken seriously to avoid Thailand becoming a magnet for this kind of business.
Related Internet Links
The BBC is not responsible for the content of external sites.