South Korea offers talks with North amid drills with US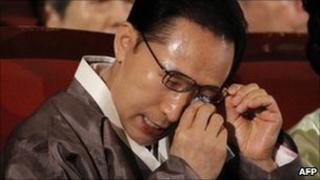 South Korean President Lee Myung-bak has issued a new televised call for talks with the North.
He said the two Koreas must not repeat their "dark history" and urged the North to give up its nuclear programme.
His comments come as South Korean and US troops conduct military exercises, which Pyongyang has warned could lead to "nuclear war" on the peninsula.
Relations have been fraught since the North shelled a South Korean island in November, killing four people.
The attack came just months after 46 sailors were killed when a South Korean warship was sunk. An international investigation blamed a North Korean torpedo attack but Pyongyang denies any involvement.
Military talks aimed at easing tensions between the two broke down last month.
Compatriots
In marked contrast to recent speeches, Mr Lee did not use harsh rhetoric against North Korea.
He was speaking at a ceremony to mark Korea's 1919 independence uprising against Japan's colonial rule.
"The Korean nation cannot afford to lag behind the currents of the times, repeating the dark history of yester-year," Mr Lee said, referring to the 1950-53 Korean War and the decades of violence that followed.
"Now is the opportune time to open a new kind of future on the Korean peninsula."
Mr Lee said there was no reason for the South not to help its impoverished neighbour.
"The North should step forward for serious dialogue and co-operation and refrain from developing nuclear weapons and missiles," he added, repeating calls for the North to take "responsible measures".
The 11-day US-South Korean military exercises have angered Pyongyang.
As Mr Lee spoke, the North's state media called the drills a dangerous plot to invade the North.
"Chances for dialogue and peace on the Korean peninsula have evaporated, and the danger of war is increasing," the state Rodong Sinmun newspaper said in a commentary.
"If a war breaks out on the peninsula, only a nuclear catastrophe will be triggered."
Just hours after the drills started on Monday, a commentary in the same newspaper warned that "the danger of a nuclear war on the Korean peninsula is deepening".
Pyongyang had earlier warned it would turn Seoul into a "sea of fire" if provoked. The US and South Korean joint command insist the drills are purely defensive.
The US has about 30,000 troops stationed in South Korea.