NZ quake unearths 'time capsules'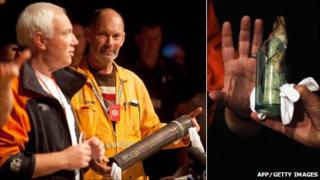 Two objects believed to be time capsules have been discovered in the aftermath of last week's ruinous earthquake in New Zealand.
A glass bottle with a parchment inside and a metal cylinder were found by rescuers searching the grounds of the cathedral in the city of Christchurch.
They were in the base of a statue of John Robert Godley, the Irishman credited with founding Christchurch.
Mayor Bob Parker called the timing of the find "inspirational".
The items were uncovered almost exactly a week after the 6.3-magnitude quake struck.
The bodies of 154 people have been recovered, but it is feared that the death toll could eventually reach 240.
The bronze statue had toppled off its stone plinth outside the cathedral, and a crane operator's discovery of the two objects inside the plinth caused immediate excitement, said reports.
Two words were visible on the rolled-up parchment inside the glass bottle - "by" and "erected" - but it will only be opened and examined in detail by experts in a humidity-controlled environment.
The contents of the metal cylinder remain a complete mystery.
The items have been handed over to Canterbury Museum.
Settler insight?
Godley led the colonial settlement that founded Christchurch in 1850.
There were several times when the objects could have been placed inside the plinth - when Godley's statue was erected in 1867, moved in 1918, or returned to its original site in 1933, reported The Press.
Mayor Parker suggested the capsules could contain documents which gave an insight into the "vision" of the settlers.
"It seems almost providential that they have come to light now to provide the inspiration we need in this most difficult time," he was quoted as saying.
Canterbury Museum director Anthony Wright said it was "poignant" that the items had been found exactly a week after the quake.
There are also reports that a third mysterious item has been found in the ruins of the cathedral - this time in the cross of the spire, which was toppled by the quake - but these remain unconfirmed.