Rebuilding Christchurch 'stone by stone'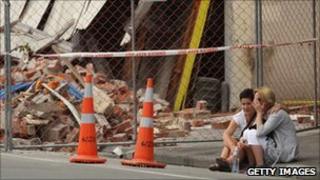 It is a time that New Zealand will never forget - 1251 on 22 February.
A week after Christchurch was disfigured by a magnitude-6.3 earthquake, the country paused to remember the moment when this city changed forever.
Within sight of some of the most badly damaged buildings where so many died in the heart of Christchurch, emergency workers stood alongside civic and church leaders to remember a brutal week.
Exhausted rescue teams laid down their tools as a two-minute silence was observed.
A ceremonial tribal farewell followed, along with prayers and songs.
A Maori elder, the Reverend Maurice Manawaroa Grey, said the soul of Christchurch had been "fractured" and that the customary ritual would help "reconnect the spiritual pathways" to give the community strength to rebuild.
"It is also a symbol that marks the doorway between the world of the living and the world of the dead that is offered as our acknowledgement of the dead," he told the BBC.
The silence was observed nationwide and was a simple yet powerful gesture that marks an important junction in a city's suffering.
Hopes that survivors might still be found in the debris have almost been extinguished.
'A different city'
Thoughts are now turning to the mighty task of reconstruction.
The centre of Christchurch, the region's economic heart, will be transformed in the years to come.
Building codes will be scrutinised and there will be official inquiries into why office blocks that were declared structurally sound after a 7.1 quake in September collapsed last week killing scores of people.
"It'll be a very different city," Prime Minister John Key said in a BBC interview.
"We're probably going to lose about a third of the buildings in the central business district, so it's going to be a very substantial rebuild and, look, back-of-the-envelope numbers are about NZ$20bn ($15bn, £9.3bn)."
The damage to property and infrastructure is so vast that the task ahead appears overwhelming.
Of immediate concern is restoring power and water supplies as well as sewerage systems across the metropolitan area.
In some eastern parts of Christchurch roads lie contorted and cracked, and seem frozen in time from the moment the quake roared through the ground.
Resilience
The deserted, rubble-strewn streets of the centre of Christchurch will remain closed off indefinitely. Many businesses, especially in the once-thriving hospitality and retail sectors, will wither.
"It's devastating. This is our busiest time of year and it is going to be months and months before the CBD (central business district) opens, and a lot of those bars and restaurants have been badly damaged," said Peter Morrison, who runs the Classic Villa boutique hotel.
"And no-one's going to be in the CBD, so why would the bars and restaurants operate? It's very sad. But we're going to have a better city."
City officials have a vision of a reborn city centre that will showcase a nation's resilience and ingenuity.
For Bob Parker, the mayor of Christchurch, one of its most well-known buildings simply must be restored.
"The cathedral is, to use a local colloquialism, munted. It is just tragically reduced in height and scale," he said.
"It breaks my heart but I want that building rebuilt stone by stone. It is a symbol of our city. I want it to be part of the future of this place."