Vietnamese policeman jailed for death of motorcyclist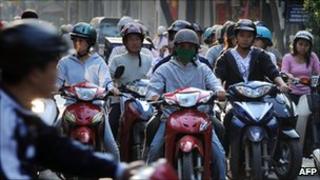 A Vietnamese policeman has been jailed for seven years following the death in custody of a man detained for not wearing a motorcycle helmet.
The court in northern Bac Giang province sentenced Nguyen The Nghiep, 25, for "causing death to a person in the performance of official duties".
Nghiep had arrested Nguyen Van Khuong, 21, on 23 July last year who, within hours, was dead.
His plight sparked the province's biggest anti-government protests.
Ten villagers, allegedly among the several thousand who had been part of the protests, face charges for causing a public disturbance and assaulting officials. Their case will be heard next month.
Nghiep is barred from returning to a police position after serving his prison term.
He also volunteered to pay US$7,380 (£4,533) in compensation to the Khuong family.
Abuse claims
The Vietnam News, an English language daily, reported that Nghiep had asked Mr Khuong to come into the police office to write a statement about the alleged helmet violation.
It said Mr Khuong had refused, so Nghiep "pushed him into a chair, gave him a pen and paper, struck a blow to the back of his head and ordered him to write the statement".
Another policeman subsequently found Mr Khuong unconscious on the chair; he was taken to hospital for emergency treatment but died about 30 minutes later.
The case prompted calls from international rights groups for a re-examination of cases of police brutality.
Human Rights Watch said that in many cases those who died in custody had been arrested for minor offences, like traffic violations or petty thievery.
It said it had documented 19 cases of police brutality a year, which had resulted in the deaths of 15 people.
It said its findings raised concerns that the abuses were systemic.
In May last year, a 45-year-old man and a 12-year-old boy were shot and killed in Thanh Hoa province when police tried to disperse crowds protesting against a government industrial project.