Burma: Australian publisher Ross Dunkley in court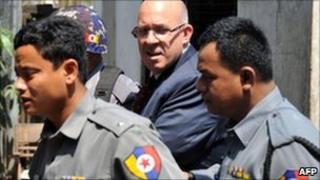 A court hearing in Burma has heard a request for bail on behalf of detained newspaper editor Ross Dunkley.
The Australian editor of The Myanmar Times was arrested on 10 February on immigration and assault charges.
He denies the charges, and the woman involved in the assault case has tried to have her complaint dropped.
Mr Dunkley has been running the newspaper for a decade under an arrangement whereby all its content is passed through government censors.
Business partners of Mr Dunkley say his arrest came amid a dispute with his Burmese partners over the newspaper's ownership, future direction and senior leadership roles.
Two days after his arrest, a change in ownership was announced by the newspaper.
Tin Tun Oo, a publisher close to generals, was made the editor-in-chief of the Burmese-language edition of the paper.
He also took the title of Chief Executive Officer.
In an acting capacity while Mr Dunkley is in jail, his partner Bill Clough has taken the roles of editor-in-chief of the English edition, and managing director of the company.
It remains unclear where effective control of the company rests after these changes.
Mr Oo and fellow newspaper executive U Wei Lin offered to stand surety for the bail request which will be considered at a next scheduled court hearing on 8 March.
Opaque
The path of Mr Dunkley's trial is uncertain.
Some observers have suggested he could be deported quickly, but his lawyer, Min Sein, has suggested the trial on two sets of charges could still take several months. If convicted, Mr Dunkley could be jailed for two years.
"The first entails a violation of Burma's immigration laws; the other involves hurting someone, feeding a drug-mixed drink to someone, and harassing a woman's dignity," he told the exile Burmese Irrawaddy news site.
Mr Dunkley's partners have said they understood the woman involved in the second charge sheet had tried twice so far to have her complaint dropped by prosecutors.
Media rights groups say Burma has one of the worst records for press freedom - the media is mainly state-controlled and privately-owned publications are subject to strict censorship.
Mr Dunkley has been praised by some journalists in Burma for opening up media space by his venture with the newspaper; however, he has been criticised too for entering into partnership with the military rulers of the country in order to do business.