Australia to build new immigration detention facility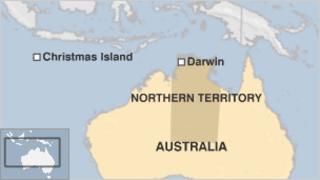 The Australian government says it will build a new immigration detention centre in the northern city of Darwin, in a bid to ease overcrowding at the Christmas Island facility.
Building is expected to begin on the 1,500-bed centre within weeks, if planning permission is approved.
It could house 500 people by the middle of the year, officials said.
In recent months, Australia has seen a rise in the number of asylum seekers arriving by boat.
This has led to overcrowding at the offshore processing facility on Christmas Island.
Uncertainty
There have been a number of demonstrations and incidents including attempted suicides there, as well as protests at other detention centres on the Australian mainland.
Last year, rights group Amnesty International warned that the mental health of some of the asylum seekers held on Christmas Island was deteriorating because of uncertainty over their situation and the conditions in which they were being held.
Immigration Minister Chris Bowen said that the new facility, which will house adult men, would cost A$9.2m ($9.3m, £5.7m). Four hundred more beds would be provided in an expanded facility at Darwin Airport.
He said it offered a "better and more cost-effective option for easing the pressure on detention accommodation".
Mental health experts will be on staff at the centre, in an industrial area south of Darwin, Australian media reported.