Chinese Congress to set out future path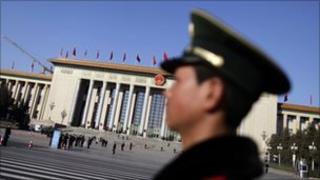 China's annual parliamentary session is to open on Saturday, with Premier Wen Jiabao to deliver his annual report.
In Beijing's Great Hall of the People, Mr Wen will address 3,000 delegates in a speech of similar importance to the State of the Union in the US.
This year's National People's Congress is set to be dominated by the country's latest five-year economic plan, which aims to create more sustainable growth.
China's leaders say fighting rising inflation is also a priority.
China's five-year plan for 2011 to 2015 will be approved during the 10-day meeting.
It is expected to feature a shift from rapid economic growth to slower, more sustainable development by stimulating domestic demand.
Until now China's growth has been built on exports and investment in large-scale projects. But there are concerns that the economy could falter unless it changes course.
Earlier this week, Environment Minister Zhou Shengxian warned that pollution and the excessive demand for resources threaten to choke economic and social development.
In the current draft of the five-year plan, environmental protection and energy conservation are identified as investment priorities.
In recent decades, development has been prioritised over the environment, meaning that China now has some of the most polluted skies and waterways in the world.
It relies heavily on coal and is the world's leading CO2 emitter.
Popular protests?
China's leaders also want to tame rising inflation as a priority.
Inflation in China, now the world's second biggest economy, is at 4.9%, and has continued to accelerate despite three recent interest rate hikes. Analysts say it has yet to peak.
Rising inflation is a concern for the leadership in China where poor families spend up to half their incomes on food.
China's leaders also want to narrow the growing wealth gap between the country's rich and poor.
Sustaining economic growth is regarded as crucial by the Chinese communist party as it fears that if growth was to tail off then it could lead to social unrest.
On the eve of the annual meeting party rulers appear to be seriously concerned about the possibility of popular pro-democracy protests, says the BBC's Damian Grammaticas in Beijing.
In response to calls on the internet for Middle East-style popular protests in Chinese cities, the government has been rounding up dozens of human rights defenders, lawyers and others in recent days.
Our correspondent says that although the calls have not led to any discernible protest of any size, the police are extremely anxious, and foreign journalists appear to be one of the government's prime concerns.
The anonymous online posts called for Chinese people to gather peacefully at sites every Sunday in a show of people power.