Philippines halts tests after China patrol challenge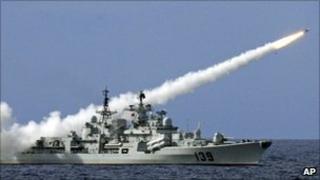 The Philippines has halted seismic testing for gas in the South China Sea after its survey ship was threatened by two Chinese patrol boats.
The Philippines Energy Secretary, Jose Rene Almendras, said tests would resume after talks in Beijing later this week.
Manila lodged a protest last Friday, the same day Vietnam complained about a Chinese presence off its coast.
China's increased military budget has also spurred a new phase of tension over China's claims to southern waters.
China claims most of the South China Sea, including the Spratly and Paracel island chains; parts of these are also claimed by the Philippines, Vietnam, Brunei, Malaysia and Taiwan.
The latest clash occurred last Wednesday when a Singapore-registered, French-owned survey ship was conducting tests at the Reed Bank oil and gas fields off Palawan Island.
Lt Gen Juancho Sabban, military commander for the Western Philippines, said the two Chinese patrol boats shadowed the survey boat and threatened to ram it.
In response, Manila sent two war planes to the area, prompting the Chinese boats to leave.
The Philippines has awarded an exploration contract to an Anglo-French consortium to explore the area for gas with a view to exploiting it.
"They had to pack up and reconstitute everything," Mr Almendras told reporters. "We have to wait, but we hope to resume."
The Chinese embassy in Manila reiterated China's "indisputable sovereignty" over the area.
The Vietnamese foreign ministry said on Friday that China's anti-piracy exercise in the Truong Sa archipelago was a serious violation of Vietnam's sovereignty.
Last year, the United States backed the position of the Association of South East Asian Nations (Asean) in favour of multilateral talks about the myriad overlapping territorial claims in the region.
The US has just sold a large patrol boat to the Philippines to bolster maritime patrols.
Just as China was announcing a significant increase in spending on its military last week, Japan also protested against China.
It said a Chinese helicopter flew close to and appeared to be filming a Japanese warship in the east China Sea.