Kyrgyzstan President Roza Otunbayeva given US honour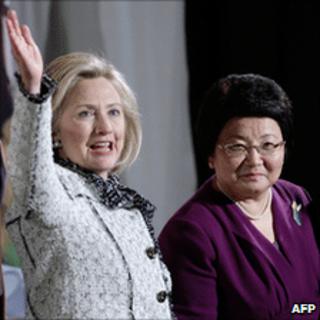 Kyrgyzstan's President Roza Otunbayeva has been given the prestigious US state department Women of Courage award.
Mrs Otunbayeva, Central Asia's first female leader, came to power last year after a popular uprising in Kyrgyzstan.
The state department said she had played a major role in the country's efforts to shed authoritarian rule.
But her award has also drawn criticism because last year's bloody clashes between ethnic Kyrgyz and Uzbeks happened under her stewardship.
More than 400 people were killed and thousands of homes destroyed - most of them belonged to ethnic Uzbeks.
International rights groups have accused the Kyrgyz authorities of turning a blind eye to rising nationalism amongst ethnic Kyrgyz and allowing for the increasing marginalisation of the country's ethnic minorities.
In Washington on Tuesday, US Secretary of State Hillary Clinton praised Mrs Otunbayeva's "tremendous courage, leadership, and tenacity", after the US state department made her one of 10 recipients of its annual award.
"In the face of a collapsing government, regional divisions, economic privation, she emerged as a unifier, someone who kept Kyrgyzstan whole after tragedy and upheaval," Mrs Clinton said.
Mrs Clinton said Mrs Otunbayeva's pledge to share power with other elected officials and to hold further elections had offered "an invaluable lesson to fledgling democracies everywhere".
'Protest'
Mrs Otunbayeva helped turn an authoritarian state into the region's first parliamentary democracy, says the BBC's Central Asia correspondent Rayhan Demytrie.
Last year the country held its first-ever largely free and fair parliamentary elections.
On Monday, US President Barack Obama thanked the Kyrgyz leader for her support for a continued US military presence in Kyrgyzstan.
The Manas transit centre in Bishkek is a major hub for US and Nato troops serving in Afghanistan.
Uzbek human rights activist Mutabar Tadjibayeva - a recipient of the US award two years ago - says she will hand back her prize in protest over Mrs Otunbayeva's award.
In a statement, Ms Tadjibayeva said: "When Mrs Otunbayeva was a leader of the opposition and was speaking out against injustice, I think then it would have been right to award her. But it is during her presidency that we have seen bloodshed."
Mrs Otunbayeva has said that the June violence represented one of the most painful experiences she has had to deal with.