'Godmother' Judy Moran guilty of murder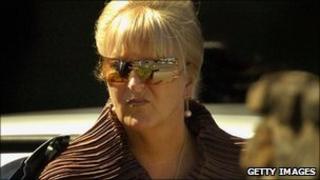 Matriarch of Australia's underworld, Judy Moran, has been found guilty of the murder of her brother-in-law Des "Tuppence" Moran.
She was convicted in the Supreme Court in the state of Victoria after a jury deliberated for seven days.
The court heard Moran had not pulled the trigger but engaged in a joint criminal exercise with a gunman to kill her relative on 15 June 2009.
Moran has previously lost two husbands and two sons to gangland killings.
She has not yet been sentenced.
Tuppence Moran was shot seven times in the head and upper body inside a cafe in Melbourne in broad daylight.
The gunman Geoffrey Armour had already pleaded guilty to murder. His assistant, Michael Farrugia, has pleaded guilty to manslaughter and testified against Moran in court.
Gangland logic
Mr Farrugia said Moran had congratulated Armour, patting him on the back, after confirming that he had shot her brother-in-law.
He said Moran had driven them from the scene and taken their clothing and the murder weapon so she could ''get rid of everything''.
Police found all these items in a safe hidden behind a bookshelf at Moran's home after she was arrested on her way back from dumping the getaway car.
BBC correspondent Nick Bryant says Judy Moran is one of Australia's most high-profile gangland celebrities, and has long been the matriarch of one of Melbourne's most infamous crime families.
The 66-year-old grandmother has also been known for her designer sunglasses and blow-dried blonde hair.
Our correspondent says this has been one of Australia's most high-profile trials in years, and there are shades of Judy Moran in one of the central characters in the critically-acclaimed film Animal Kingdom, for which the Australian actress Jacki Weaver received an Oscar nomination.
During the four-week trial, the court heard Moran deny any motive for the killing.
The Australian media has linked it, however, to a series of about 30 gangland murders that began with the killing of Alphonse Gangitano in the laundry of his home in January 1998.